---
Born 2 November 1925, New York City
Died 20 June 2008, Camarillo, California
---
Bongos Burger, also known as Mister Bongos. Better known as a teacher than a performer, Jack Burger was a great champion of the bongos long before they were introduced to coffeehouses and became standard equipment for any self-respecting beatnik. The beatniks might be surprised to learn that Mister Bongos spent a number of years as drumming away on Gene Autry's radio show, one of his many gigs as a working percussionist.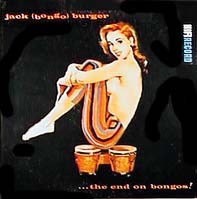 Burger played in school bands and orchestras through high school, and worked as an instructor at the Army's Band Training Unit at Fort Lee, Virginia, during World War II. After the war, he used his G.I. Bill benefits to study music at the the Southern California School of Music and Art. As eager a student as an instructor, he would later study anthropology at UCLA and Cal State Northridge. He worked in the studio system through much of the 1950s and 1960s, performing with just about every ensemble imaginable in virtually every commercial format around. He played on many of the network variety shows, from Arthur Godfrey to Andy Williams. He did movie and TV scores, recording sessions with Nelson Riddle, Steve and Edye, the Beach Boys, Sonny and Cher, and many more. He played tympani, bongos, drums, and a host of other percussion instruments for jingles selling Gallo Wines, Chesterfield cigarettes, Mattel Toys, and Chevrolet cars. He did guest appearances ranging from Lawrence Welk to the Los Angeles Philharmonic, and took bands to Korea and Vietnam for the U.S.O. and State Department.
HiFi Records signed him in the late 1950s, and he recorded three cool jazz albums along the beatnik theme for them. Of these, The End on Bongos is the most collectable, although those who came in a few beat generations too late may want to benefit from the master's instructions.
Burger was most interested in musical education, and he wrote a number of method books for percussionists. He taught for years in the Los Angeles Unified school district and later directed workshops at Claremont College and the summer music program at Idylwild. He taught well into the mid-1990s, adding computers to his repertoire, proving that not all of his generation were allergic to technology.
---
Recordings
Let's Play Bongos (instructional record), HiFi Record R803
The End On Bongos, HiFi Record R804
Let's Play Congas, HiFi Record R809
"The Three-Handed Drummer" b/w "Tonkabushi Rock and Roll" (HiFi single)
Progressive Bongo Instruction, Phonic Record
---
Search for Records and CDs
New CDs
Used Records and CDs


Search GEMM for old recordings by Jack Burger.
---
S p a c e A g e P o p M u s i c
Home · Listener's Guide · The Songs · Who's Who · Liner Notes · Selected Tracks · What's New · Search
© spaceagepop 2015. All rights reserved.