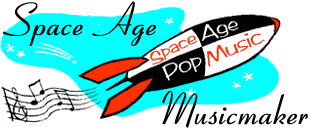 Rene Bloch
---
Millions more know Rene Bloch's sound than do his name. Bloch played the haunting alto sax lead on the 1945 Johnny Otis hit record of "Harlem Nocturne" that came to exemplify the crime jazz style that Henry Mancini, Pete Rugolo, and many others perfected through their scores to film noirs and private eye TV series. As a soloist, Bloch might have more in common with Earl Bostic than Charlie Parker, but his forceful style allowed him to hold his own in front of powerhouse big bands like Perez Prado's.
Bloch led his own combos at different times beginning in the late 1950s. His first album, for Andex, was very much in the Prado vein, with Latin-influenced arrangements by Paul Lopez. Hi Fi Records pulled him in to capitalize on the cha-cha craze, but his best work as a bandleader came in the 1960s, when he was one of the early innovators in the rise of the boogaloo/Latin soul scene in New York City. Unfortunately, he seems to have had a knack of getting one-shot record contracts, since his recordings appear on everything from the well-establish Atco (Atlantic Records) to the bargain bin rip-off specialist Surrey.
---
Recordings
Mucho Rock, Andex A 4002
Let's Dance the Mambo, Capitol T1455
La Pachenga, Capitol ST-1530
Everybody Likes to Cha-Cha-Cha!, Hi Fi R/SR-819
Latin Discotheque, Atco LP
The Latin Moods of Rene Bloch, Famous F-507
Spanish Saxes, Vol. 2, Surrey SS 1038
The Afro Blues Quintet featuring Rene' Bloch, Next Album, Mira MLPS 3016
---
Search for Records and CDs
New CDs
Used Records and CDs


Search GEMM for old recordings by Rene Bloch.
---
S p a c e A g e P o p M u s i c
Home · Listener's Guide · The Songs · Who's Who · Liner Notes · Selected Tracks · What's New · Search
© spaceagepop 2015. All rights reserved.