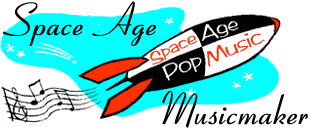 Bill Black
---
Born 17 September 1926, Memphis, Tennessee
Died 21 October 1965, Memphis Tennessee
---
Bill Black and guitarist Scotty Moore were just a couple of Memphis session musicians when Sun Records boss Sam Phillips hired them to play with a young truck driver named Elvis Presley for a few sides, including a revved-up rockabilly version of Arthur "Big Boy" Crudup's "That's All Right, Momma." Within a year or so, Elvis was the biggest thing since Jesus, while Bill and Scotty remained a couple of anonymous faces strumming and thumping away behind him. They eventually got fed-up with their anonymity and Colonel Parker's lousy pay and quit in 1957.
Scotty Moore went on to be a successful session musician, mostly based in Nashville. Black was approached by Joe Cuoghi, owner of a fledgling Memphis label, Hi Records. Black pulled together an instrumental combo and recorded two sides. The A-side, "Smokie," shot right to #1 on the Billboard Hot 100 chart--as did each of their next four releases: "Don't Be Cruel," "White Silver Sands," "Josephine," and "Cherry Pink and Apple Blossom White."
Black's formula was simple but reliable: himself on electric bass, Reggie Young on electric guitar, Martin Wills on sax, Jerry Arnold on drums, and Carl McAvoy on piano, playing unadorned sax/guitar R&B/rock 'n' roll arrangements of current hits. In some ways, it wasn't far afield from Bill Justis' approach to the same material. In fact, a cover of Justis' own hit, "Raunchy," was one of their best-selling singles. For the next three years, radio DJs around the country voted the group as the "Most Played Instrumental Combo" in the country.
The combo churned out a steady stream of singles and albums for Hi Records, and by 1962, Black was financially secure enough to hire Bob Tucker to replace him and retire from playing. Sadly, he soon after was diagnosed with a brain tumor. He died in 1965 during the third operation to remove the tumor. Tucker kept the combo going on without him. Although their last single to hit the charts was recorded in 1969, the group continued to record until Hi Records was sold in 1979, and with Tucker in the lead, carried on performing at clubs, shows, and fairs into the late 1980s.
---
Recordings
Smokie, Hi Records 12001/32001
Saxy Jazz, Hi Records 12002/32002
Solid & Raunchy, Hi Records 12003/32003
That Wonderful Feeling, Hi Records 12004/32004
Movin', Hi Records 12005/32005
Let's Twist Her, Hi Records 12006/32006
The Untouchable Sound, Hi Records 12009/32009
Greatest Hits, Hi Records 12012/32012
Out West, Hi Records 12013/32013
Plays the Blues, Hi Records 12015/32015
Plays Tunes by Chuck Berry, Hi Records 12017/32017
Goes Big Band, Hi Records 12020/32020
More Solid & Raunchy, Hi Records 12022/32022
Mr. Beat, Hi Records 12027/32027
Black Lace, Hi Records 12033/32033
The Beat Goes On, Hi Records 32041
Solid & Raunchy the 3rd, Hi Records 32052
More Bill Black Magic, Hi Records 32061
Black with Sugar, Columbia CS 9848
Raindrops Keep Fallin' On My Head, Columbia CS 9957
Bill Black's Combo Forever, Springboard 4020
---
Search for Records and CDs
New CDs
Used Records and CDs


Search GEMM for old recordings by Bill Black.
---
S p a c e A g e P o p M u s i c
Home · Listener's Guide · The Songs · Who's Who · Liner Notes · Selected Tracks · What's New · Search
© spaceagepop 2015. All rights reserved.