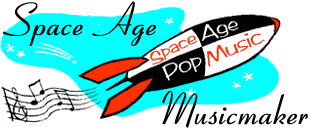 Frank Barber
---
Frank Barber's work ranges all over the place. At one end of the spectrum you find albums like Hi-Fi Dinner Music, a mild and undistinguished slice of mood music, and When the Guards are on Parade, a tribute to London dripping with Britannic nostalgia. At the other end, you find Deep Percussion, a hippy-dippy delight of now sounds featuring a great cover of Piero Umiliani's "Mah-Na, Mah-Na," (originally heard on the soundtrack of "Sweden: Heaven and Hell," but etched into our memories as the music to which Benny Hill chased countless scantily-clad "birds"). Originally recorded as Happy Percussion in the U.K. and produced by Norrie Paramor, Deep Percussion was one of the last percussion showcase albums of the Space Age Pop era.
Barber was the lead A&R man for British label, Oriole, in the mid-1960s. When seen against the whole of his career, his percussion albums appear to be anomalies, for they are bracketed by a string of unrepentently-middlebrow albums. After Deep Percussion, Barber seems to have specialized in catering to swing-era nostalgia, with albums like Hits of the 30s and Hooked on Glenn Miller.
---
Recordings
Hi-Fi Dinner Music, Capitol T-10082
When the Guards are on Parade, Columbia (UK) 33SX1193
Room 504, Columbia (UK) 33SX1233
Swinging Percussion, Studio Two TWO 127
Percussion in Colour, Studio Two TWO 203
Melodic Percussion, Capitol ST 2794
Deep Percussion, Polydor 24-4508
Glenn Miller Medley, JDC Records JDC0078
Hooked on the Big Bands, Victory Records VIC702
Now's the Time, Haynes Records HS1002
Big Bands are Back!, Sugar Hill SH9231
Salute to the Big Bands, Pulse CD
---
Search for Records and CDs
New CDs
Used Records and CDs

<! -- here GEMM code starts>

Search GEMM for old recordings by Frank Barber.
---
S p a c e A g e P o p M u s i c
Home · Listener's Guide · The Songs · Who's Who · Liner Notes · Selected Tracks · What's New · Search
© spaceagepop 2015. All rights reserved.