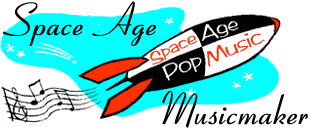 Don Baker
---
Born 26 February 1903, St. Thomas, Ontario, Canada
Died 26 June 1989, Leesburg, Florida
---
Baker studied music at Mount Royal College and the Toronto Conservatory before starting a long career as a theatre organist. He moved to New York City and worked as house organist for the Rivoli, the Rialto, and finally the Paramount, over a period of 22 years, interrupted only by a year at a major theatre in London in 1933-34. Baker also dabbled in songwriting, with titles like, "You're the Only Pebble on the Beach." In the late 1950s, he became a touring artist for Conn Organs, and recorded at least one album for Capitol. Baker's rendition of "The Third Man Theme" is included in Capitol's "Ultra Lounge" compilation, "Organs in Orbit."
---
Recordings (Courtesy of Dave Roemersberger)
Organ Music, Remington RLP-1006 (10"LP)
Popular Dance Tunes, Halo 50221
Organ In Pop Dance Tempos, Rondo-lette A-10
Don Baker At The New York Paramount, Harmony HL-7021
Organ Moods For Listening, Capitol T-612
Far Away Music, Capitol T-797
Medley Time, Capitol T-997
Cocktail Hammond, Capitol T-1099
Sophisticated Pipes, Capitol T-1171
Hammond For Dancing, Capitol T-1357
Bakers Dozen, Capitol T-1363
The Sound Of 94 Speakers, Capitol T-1626
Sound Showcase, Capitol ST-1908
The Great Songs From The Motion Pictures, Kapp KS-3411
Electronic Pipes, Concert Recording CR-E056
Farewell To The Paramount, Concert Recording CR-0066
Homecoming, Concert Recording CR-0113
Don Baker Vol. One, Concert Recording CR-0173
Don Baker Vol. 2 The Birmingham, Concert Recording CR-174
Curtain Time, Concert-Disc CS-201
Rise 'N Shine, Ara S-3832
Organ Magic, Reader's Digest Albums, RCA Custom RD RD4-207
---
Search for Records and CDs
New CDs
Used Records and CDs

<! -- here GEMM code starts>

Search GEMM for old recordings by Don Baker.
---
S p a c e A g e P o p M u s i c
Home · Listener's Guide · The Songs · Who's Who · Liner Notes · Selected Tracks · What's New · Search
© spaceagepop 2015. All rights reserved.