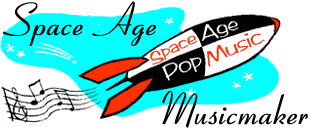 Ted Auletta
---
Born Theodore Auletta, 22 October 1923, New York City, New York
Died 22 January 1979, Ireland
---
Ted Auletta earned his place in Space Age Pop history with a single album, an excellent example of jungle exotica titled, aptly, Exotica. Released in 1962 on Cameo, which was best known as Chubby Checker's label. Exotica was the second of a low-budget and short-lived attempt to imitate the success of Command and other stereo showcase labels.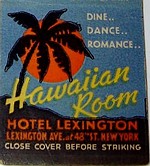 Auletta qualified for the gig based on his three years leading the house band at the famed Hawaiian Room at the Hotel Lexington. The Hawaiian Room, uplifted out of existence a few years ago, was perhaps the finest example of the Tiki culture to be found in Manhattan. It was known as the launching pad for the careers of a number of "hapa haole" Hawaiian musicians, including Ray McKinney and Lani McIntire. According the liner notes from Exotica, Auletta was heading for Hawaii soon after the album's release, but that was probably liner note hype, as in fact he stayed in the Big Apple.
Auletta received his a bachelors in music education from New York University and later studied orchestration and conducting at the Juilliard and Manhattan schools of music. His career took him through almost every aspect of the rich New York City musical scene. He was staff pianist and arranger for radio station WNEW for several years. He worked as musical director for the such well-known spots as the Tavern on the Green, the Rainbow Grill, and the Americana Hotel.
In television, he was a featured pianist and arranger for Sammy Kaye on his ABC-TV series, "Music from Manhattan," and played with Lawrence Welk in the early days of his long-running series. He served as musical director for an NBC summer series (back when networks still did them) called "Showcase '68," a talent show that travelled around the country featuring local acts. Sly and the Family Stone were the show's final grand prize winners.
As a composer, he wrote three children's musicals and a background score for the Brian Friel play, "Crystal and Fox." He also wrote the score for "Manhattan Mosaic" — an early multimedia extravaganza featuring shots of the city and verse by Patricia Benton that played during the 1964 World's Fair.
He was particularly sought after as a musical director and accompanist. The long list of singers he worked with includes such performers as Jane Morgan, Shani Wallis, Carmel Quinn, Lisa Kirk, Julia Meade, Julie Wilson, George Jessel, Michele Lee, Shirley Bassey, Kaye Stevens, Toni Arden, Caterina Valente, and Ann Jillian. It was while on tour with Quinn in Ireland in 1979 that he passed away suddenly, of a heart attack.
---
Recordings
Dixieland Dandies, TREASURE TLP-803
Accompanying George Jessel, Tear Jerkers of the Not-So-Gay Nineties, Treasure TLP-804
Honky Tonk Rag Pickers, MVM Records MVM 131
Magnificent Piano, Design SDLP-298
Exotica, Cameo SC-4008
All the Things You Are, Audiophile CD
---
Search for Records and CDs
New CDs from Amazon.com

Used Records and CDs from GEMM.com


Search GEMM for old recordings by Ted Auletta.
---
S p a c e A g e P o p M u s i c
Home · Listener's Guide · The Songs · Who's Who · Liner Notes · Selected Tracks · What's New · Search
© spaceagepop 2015. All rights reserved.