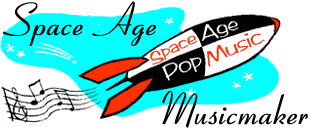 Jan August
---
Born Jan Auggustoff, 24 September 1904, New York City
Died 9 January 1976, New York City
---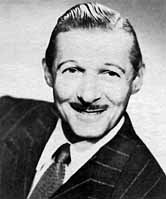 August worked as a pianist and xylophonist with Paul Whiteman and Ferde Grofe, then as a solo club pianist in the mid-1940s. His biggest hit was his version of "Misirlou," recorded for Mercury in 1947, but he had success with "Malaguena," "Oye Negra," and others that blended classical piano stylings with a Latin beat. He later recorded with Jerry Murad and the Harmonicats and Richard Hayman.
Mercury used August to record numerous collections of covers of popular piano instrumentals, usually with as much care as you might expect from a title such as "A Collection of 27 opular Classical Melodies." The titles to look for are pretty much the ones that look most appealing to the naked eye: Exotic Piano Rhythms, Latin Rhythms, and Cha-Cha (although you might up-cha-cha-chuck by the end of it). However, don't be misled by Music for the Quiet Hour--it may be the best single August album to be found.
---
Recordings
Piano Rhythms, Mercury MG 25003
Exotic Piano Rhythms, Mercury MG 25086
Piano Favorites, Mercury MG 25087
Piano Poetry, Mercury MG 25136
Jan August Plays Songs to Remember, Mercury MG 20072
Music for the Quiet Hour, Mercury MG 20078 (reissue of Piano Rhythms, also reissued on Mercury/Wing MGW 12129)
Christmas Favorites with Jan August, Mercury Wing MGW 12175
Piano Roll Blues, Mercury MG 20147
Keyboard Waltzes, Mercury MG 20273
Latin Rhythms, Mercury MG 20274
The Piano Wizardry of Jan August, Mercury MG 20276 (reissued on Mercury/Wing SRW 16254)
Cha-Cha Charm, Mercury MG 20408
Plays Great Piano Hits, Mercury MG 20513
Accent! Latin Piano by Jan August, Mercury MG 20618
Jan August Styles the Great Pop Piano Classics, Mercury MG 20659
Jan August Styles Great International Hits, Mercury SR 60667
Jan August Plays A Collection Of 27 Popular Classical Melodies, Mercury SR 60744
---
Search for Records and CDs
New CDs
Used Records and CDs


Search GEMM for old recordings by Jan August.
---
S p a c e A g e P o p M u s i c
Home · Listener's Guide · The Songs · Who's Who · Liner Notes · Selected Tracks · What's New · Search
© spaceagepop 2015. All rights reserved.