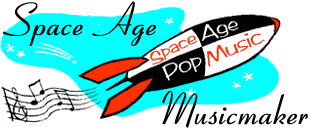 Van Alexander
---
Born 2 May 1915, New York City
Died 19 July 2015, Los Angeles, California
---
Son of a concert pianist, Alexander studied composition before going to work as a professional arranger for a variety of big bands, including Chick Webb's. He arranged Ella Fitzgerald's biggest hit with Webb, "A-Tisket, A-Tasket" in 1938. He then formed his own band, which mainly worked the theater circuit until 1943. He then settled in Hollywood and went into studio work. He wrote scores for the films "Baby Face Nelson," "The Big Operator," and "The Private Lives of Adam and Eve." He also arranged and conducted for TV variety shows starring Mickey Rooney and Gordon McRae. He recorded several LPs for Capitol under his own name, as well as back-ups for Kay Starr and Dakota Staton.
---
Recordings
Home of the Happy Feet, Capitol T-1423
Swing! Staged for Sound, Capitol T-1653
Savoy Stomp, Capitol T-1712
Baby Face Nelson (soundtrack), Jubilee 2021
8 Top Hits Instrumental, Waldorf MH-3332
---
Search for Records and CDs
New CDs
Used Records and CDs

<! -- here GEMM code starts>

Search GEMM for old recordings by Van Alexander
---
S p a c e A g e P o p M u s i c
Home · Listener's Guide · The Songs · Who's Who · Liner Notes · Selected Tracks · What's New · Search
© spaceagepop 2015. All rights reserved.