Born 14 February 1914, Baltimore, Maryland
Died 7 August 2001, London, England
---
Larry Adler started out as a fast-talking Jewish kid on the streets of Baltimore and ended up heralded as a world-class musician whose death was noted with lead obituaries in the New York Times and the Times of London. Not bad, considering he taught himself to play and only learned to read music in his twenties.
Adler was the son of a plumber, and claimed his grandfather changed the family's name from Zelakovitch to Adler to cut to the head of the line when he emigrated from Russia. Early on, he displayed an extraordinary self confidence that would open (and occasionally, close) doors for him throughout his life. Among his early feats was convincing a Baltimore piano dealer to let him take home a $2,500 piano his father was supposed to pay of at 50 cents a week.
Picking up the mouth organ--as he insisted on calling the harmonica throughout his career--while still in elementary school, Adler entered a state competition at the age of 10 and won. What particularly impressed the judges was that Adler performed Beethoven's Minuet in G, and not Turkey in the Straw or similar pieces his competitors chose.
A precocious free-thinker, Adler rejected the prejudices of Baltimore, "where everyone hated everyone else." "I was warned by my parents not to play with 'the little nigger boys,' so I went out of my way to play with them. He also earned the wrath of the administrators of Baltimore's Peabody Conservatory, who expelled him for switching his recital piece from Grieg's Waltz in A Minor to Yes, We Have No Bananas.
At the age of 14, he bought himself a ticket to New York City and began shopping his musical skills to anyone who would listen (and some who wouldn't). People were not so easily impressed in the Big Apple, though. Borrah Minevitch gave him a try-out for the Harmonica Rascals and concluded, "Kid, you stink." Eventually, he wangled a job with Rudy Vallee, and from there, he earned a featured spot in the Ziegfeld Follies.
He also encountered many of the notable personalities of the time, of whom he was fond to recount memorable, if not always verifiable, stories. He claimed that Al Capone once met him at a backstage party and lectured him, "What kind of a Yid are you? Get your coat, go back to your hotel, sit down and write your mother and father a letter."
In some cases, however, the meetings produced much more than stories. Adler hit it off with composer George Gershwin. Gershwin wrote several short pieces for Adler, and in turn, Adler adapted Rhapsody in Blue and made it his favorite concert number. Gershwin once wrote him, "The god-dmaned thing sounds as though I wrote it for you."
British theatrical producer C. B. Cochran saw Adler on Broadway and hired him to join the 1934 London revue, Streamline. British audiences loved Adler's playing, and a year later, a whole revue, Tune Inn, was staged with him as the star. There were even Larry Adler fan clubs around the UK, and harmonica sales shot up.
Through the early 1940s, Adler crossed the Atlantic frequently to appear in shows and movies in the U.S. and the U.K. He also began cultivating acquaintances with composers such as Darius Milhaud, who finally talked him into learning to read music so Milhaud could send him compositions to try out.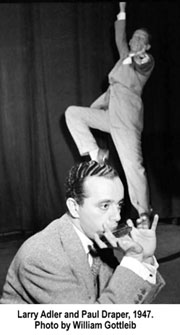 In 1941, Adler began a partnership with dancer Paul Draper, and the pair appeared at Carnegie Hall and other venues, with Draper performing solo dance interpretations of pieces played by Adler. When World War Two broke out, they became USO performers, and toured England, Europe, and North Africa, entertaining troops along with Jack Benny, Ingrid Bergmann, and others.
After the war, Adler and Draper took their act to nightclubs and concert auditoriums in the U.S., but they soon ran afoul of the early stages of the blacklist. Politically liberal, they were vocal supporters of what became labelled as "Communist fringe" activities. Nightclub owners began avoiding them over their support for Progressive Party presidential candidate Henry Wallace.
In late 1948, a Connecticut woman, Mrs. Hester T. McCullough, wrote to The Greenwich Time, a local newspaper, to protest their appearance before the Greenwich Concert Association, claiming the men were "pro-Communist in sympathy." The association cancelled the show, and Adler and Draper sued for $200,000 in damages. The case was taken up by columnist Westbrook Pegler--on Mrs. McCullough's side--and Adler and Draper found themselves facing the consolidated defenses of far-right organizations. It ended in a hung jury, but the men had to drop the suit due to lack of funds in 1951.
Adler decided to cross the Atlantic for good, and settled in England, where his professional opportunities had less to do with his political inclinations. Producer Henry Cornelius hired him to write the score for the 1953 film, "Genevieve," a highly successful comedy centered on the annual old car race from London to Brighton. Cornelius balked as putting Adler's name on the credits for the U.S. release, however, and as a result, when the score was nominated for the Oscar, it was conductor Muir Matheson who got the credit. It was not until 1993 that the Academy of Motion Picture Arts and Sciences restored Adler's name to its records. (Adler said he got the last laugh out of the deal, however, since he went on to earn almost $500,000 in composer's royalties, while the other performers earned a flat fee of 1,000 pounds.
He went on to score several other films, including "King and Country" and "A High Wind in Jamaica," as well as for stage and television shows. He continued to perform, more often in classical concerts, and had a short-running one-man revue of music and comedy in London.
Adler returned to U.S. to perform in 1959, and rejoined Draper for a Carnegie Hall performance in 1975. Throughout the 1960s, however, his activities shifted increasingly from music to writing. He published a book on Jokes and How to Tell Them and write occasional pieces for London magazines. He became a regular contributor to Private Eye, The Sunday Times, and others, and served as the film critic for The Oldie for several years.
In 1985, Adler published a lively autobiography, It Ain't Necessarily So, and over 60 years after it expelled him, the Peabody Conservatory invited him back for an honorary degree.
Adler celebrated his 80th birthday in 1994 by releasing a star-studded tribute CD, The Glory of Gershwin, aided by the likes of Elton John, Elvis Costello, and Sting, who quipped, "W. C. Fields warned us about working with children and animals. He forgot to mention Larry Adler." The album earned Adler a spot in the Guinness Book of Records as the oldest artist to reach the British pop charts.
Twice married and divorced, Adler's last romantic relationship was with Lady Selina Hastings, daughter of the Earl of Huntingdon. Not bad for a Jewish kid from Baltimore.
---
Recordings
Larry Adler, Audio Fidelity AFLP 1916
Larry Adler Again! Harmonica Virtuoso, Audio Fidelity AFSD-6193
Harmonica, London Phase 4 PS920
---
Search for Records and CDs
New CDs
Used Records and CDs

<! -- here GEMM code starts>

Search GEMM for old recordings by Larry Adler
---
S p a c e A g e P o p M u s i c
Home · Listener's Guide · The Songs · Who's Who · Liner Notes · Selected Tracks · What's New · Search
© spaceagepop 2015. All rights reserved.